As the sun sets over the horizon of the Lincoln Center, a rich tapestry of emotions, drama and music unfurls before the eager audience. From Shakespearean tragedies to contemporary adaptations, the Met Opera Summer HD Festival promises an eclectic offering for opera aficionados and novices alike. Set against the picturesque backdrop of one of New York City's most iconic cultural hubs, this annual festival marks a moment where art, community and the simple joy of a summer evening coalesce.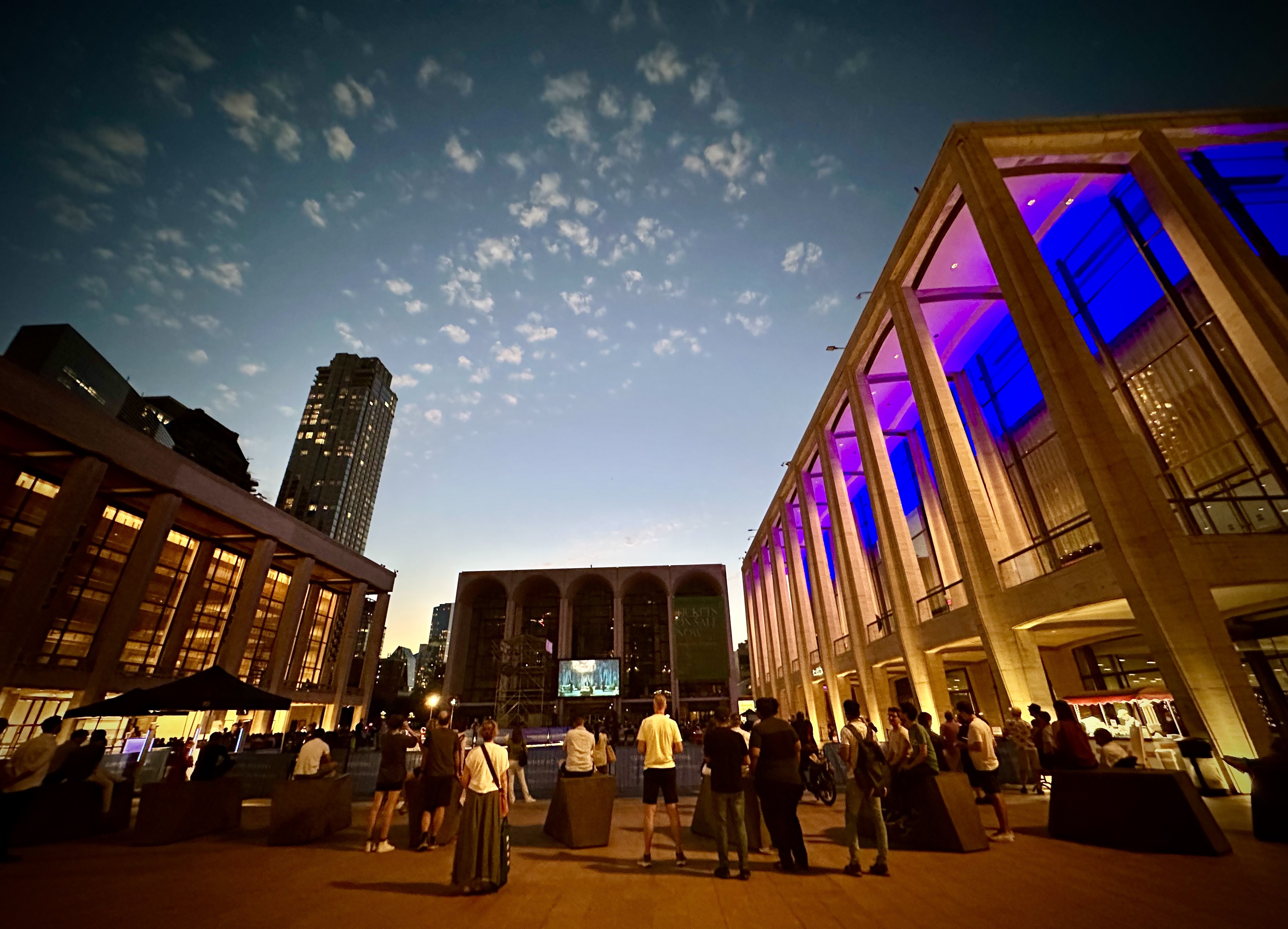 This event has everything you'd want for a summer evening. Free seating available, a small bar for libations and ice cream. Bring a chair if you want to seat yourself Here's the lineup for this week:
MONDAY 8/28 @ 8 pm — The Hours 
Yes, it's the same
The Hours
as the book and the film that starred Meryl Streep, Julianne Moore, and Nicole Kidman. 
TUESDAY 8/29 @ 8 pm — Falstaff 
A comedy about a Knight who gets his comeuppance, thanks to a trio of clever women. 
WEDNESDAY 8/30 @ 7:30 pm — Hamlet 
The classic story about the Dane with parental unit issues. 
THURSDAY 8/31 @ 7:30 pm — Cosi Fan Tutte 
This is an oldie but goodie by Mozart, updated to 1950s Coney Island. 
FRIDAY 9/1 @ 8 pm — Fedora
See what happens when a Russian princess falls in love with her fiance's murderer.  
SATURDAY 9/2 @ 8 pm — Champion
One moment can change your entire life is the headline here. It's about boxing, but it's not. 
SUNDAY 9/3 @ 8 pm — Rigoletto
A hunchback court jester makes a joke that in hindsight wasn't that funny. 
MONDAY 9/4 @ 8pm — La Bohème
Paris, young love, disease. What could possibly go wrong? 
There are
more details of the performances on the Met Opera website
.
Not an Opera Expert? No Worries

If the world of opera feels like a labyrinthine maze, have no fear. Each night includes an introduction from experts who provide crucial information on the plot, context and history of the opera. Add to that the luxury of on-screen subtitles, and you have a week's worth of entertainment that's both intellectually stimulating and emotionally fulfilling.

So, for those looking to dip their toes in the opera pond or those well-versed in its dramatic currents, pick a night. The Met Opera Summer HD Festival promises a week of unforgettable performances.