 Flower vendor making a sale in Union Square Park in early 1900s. Photo: Library of Congress

"Flowers were essential to everyday life in early city history. New York had severe odor issues during the mid-1800s due to poor sanitation. During this time, people would say they could smell NYC three miles away. So having fresh flowers in their homes masked the scent from the fetid streets. Similarly, restaurants would use flowers at tables to mask their clients' body scent, due to lack of good hygiene," says the NYC Historic Floral District website.

In the featured picture, a vendor on bended knee sells azalea, chrysanthemums, hydrangeas and daisy plants to New Yorkers in the early 1900s at Union Square.

Established on Saturday, April 11 1891, the Union Square Flower Market blossomed amid the rapidly transforming landscape of Manhattan. As the 19th century gave way to the 20th, the metropolis witnessed a frenzy of construction, business growth, and economic expansion. Against this backdrop, the floral market was a hotbed of competition, with florists frequently embroiled in legal battles for coveted corner spots. Flowers for sale at Easter in Union Square circa 1904. Photo: Library of Congress

By the turn of the century, New York State was home to an impressive 237 greenhouses dedicated to cultivating flowers, which in turn increased the variety of blooms available at the Union Square market and reduced their cost. Roses could be procured for a mere $1 per dozen, while azalea plants began at $3.50 each and potted Boston ferns retailed for $1. The majority of these floral offerings were sourced from local farms dotting Long Island, rural New York State counties and neighboring New Jersey.

The mid to late 1800s saw the rise of cut flowers, as technological advancements in greenhouses enabled florists to grow flowers year-round. Efficient heaters further facilitated the cultivation of diverse floral varieties. The high demand for fresh cut flowers among the wealthy class led to exponential industry growth over a 20-year period, with wholesale companies seizing the opportunity to expand their operations and generate substantial wealth.

The evolution of New York's flower district can be traced back to 1891, when the New York Cut Flower Company, a cooperative association of growers, relocated to the Coogan Building after selling their flowers at the Cut Flower Exchange on East 34th Street for six decades. A bell signaled the opening of the market to retail florists and floral peddlers each morning. In the 1940s, W 28th Street began to develop into the floral district, partly due to its proximity to wealthy clients who frequented the area to purchase fur coats, providing the florists and wholesale companies with a unique sales advantage. The 1930s and 1940s saw W 28th Street and its surroundings emerge as a hub where florists procured flowers from wholesale companies.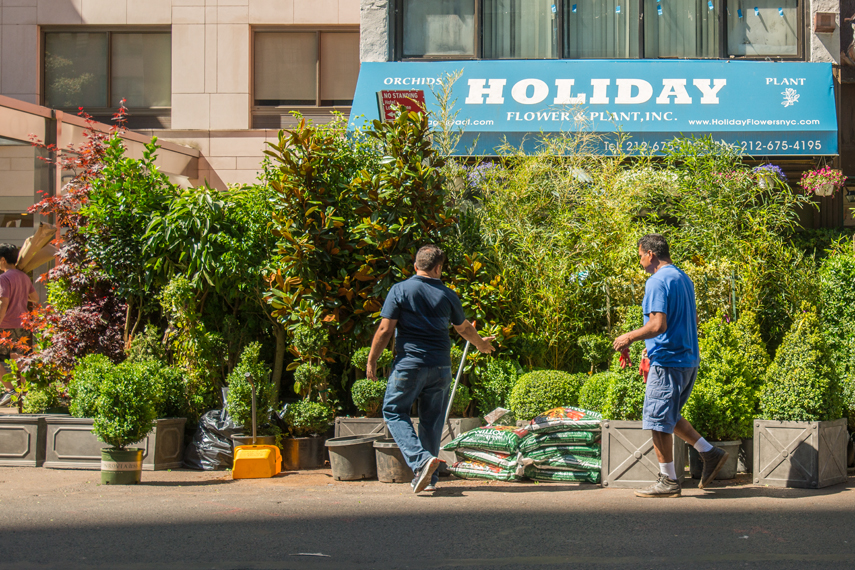 The flower district in 2016. Photo: Tom Arena

By the late 1950s and 1960s, the 28th Street area officially became New York's floral district, boasting over 50 wholesale companies and numerous supply shops. The New York Florist Club headquarters on 23rd Street played a significant role in this migration by encouraging florists to move their businesses to the area. It was during this period that George Bradshaw and John Hartman established one of the earliest Wholesale Florists companies, operating from 53 W 28th Street. Most wholesale companies were concentrated between 6th Avenue and Broadway on 28th Street, creating a centralized hub for the flower industry in New York City.

A 2004 New York Times report discussed the decline of the once-bustling flower district, with many businesses then facing closure due to real estate pressures, a tough economy, and competition. The Flower Market Association was formed in 1999 to help merchants find new space, but relocation efforts were slow and challenging, hindered by disagreements and economic challenges among members. The district, once home to more than 60 flower wholesalers, was by then reduced to 32, struggling to retain its character and clientele.

Before the pandemic, trendy hotels opening in the area were leveraging the district's uniqueness to attract visitors, potentially saving it from disappearing entirely. As tourists and locals flocked to the area, interest in the neighborhood increased, but this didn't prove lucrative enough.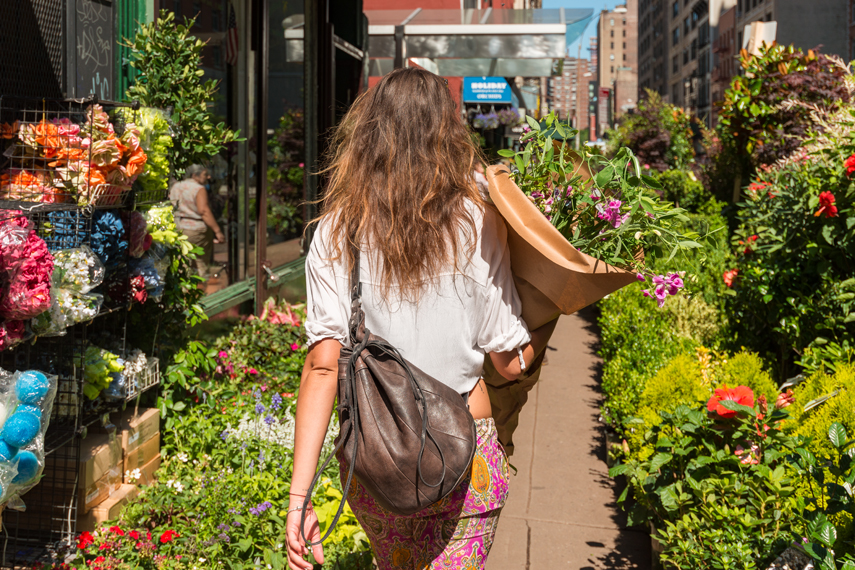 New York's flower district in full bloom. Photo: Tom Arena

Now, Midtown's floral district faces challenges with inflation as it tries to recover from the pandemic. Although outdoor dining boosted demand temporarily, corporate events remain scaled back. Many shops closed permanently, and those that remain report decreased sales and increased rent and wholesale prices due to inflation, forcing them to raise customer prices. Efforts are being made to support the district and create legislation for economic stability.