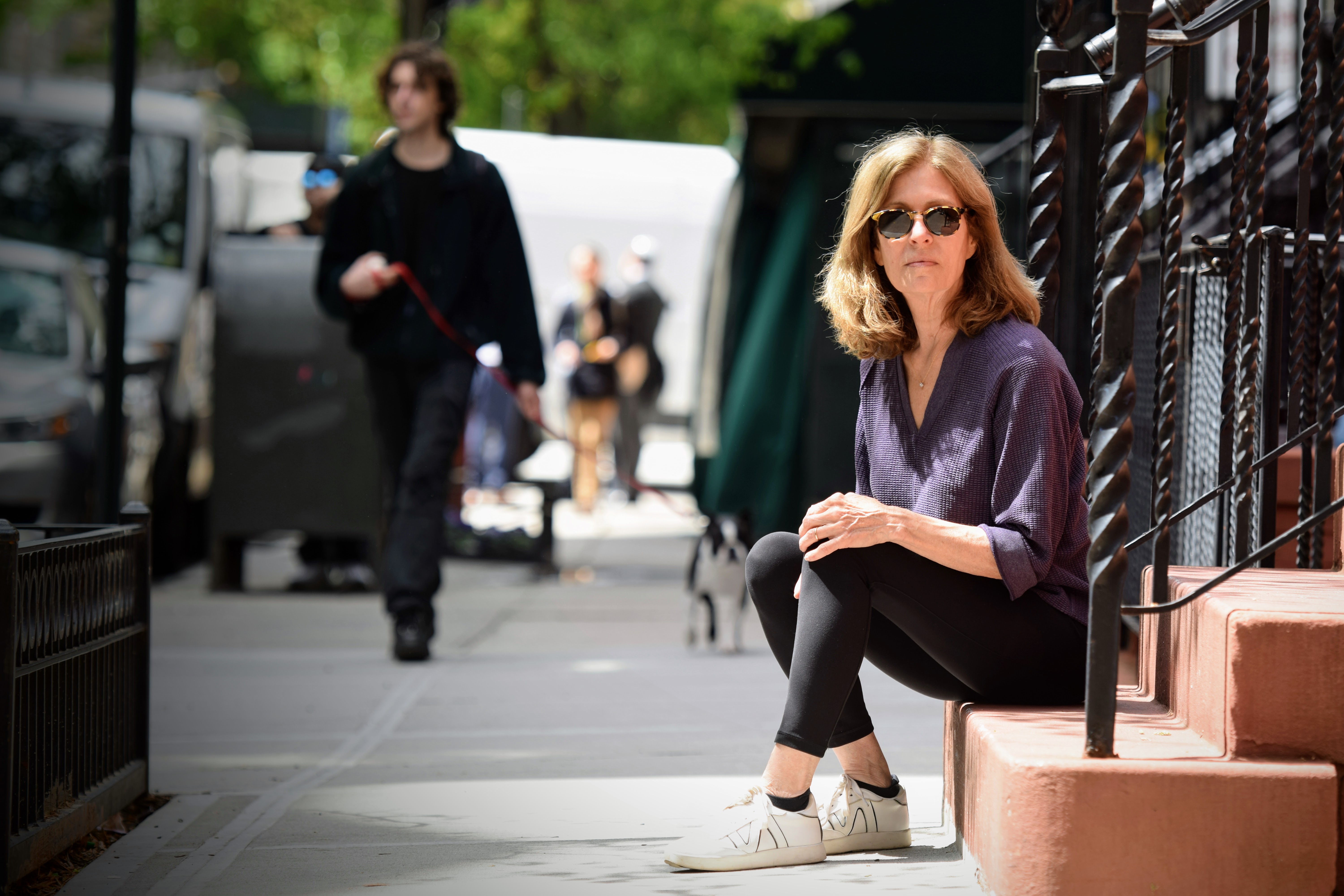 Betsy Bober Polivy has walked every street from 1st to 155th Street in Manhattan. Photo: Phil O'Brien

Where do you live in Manhattan?
I'm right by Lincoln Center — I can see it from my window!

Where else have you lived in Manhattan?
I have lived in several different neighborhoods. We started out on Madison and 67th back in the late 1970s, then we settled in Kips Bay for a number of years. We moved to Westchester in the early 1980s, and raised our children there, but returned to New York as soon as our kids were grown and out of the house. We returned to Manhattan on 67th and 1st, then spent five years on W72nd, and only recently moved to Lincoln Square after seven years in Chelsea.

So, what's your New York story? Born here, or just arrived?
I grew up in Glen Cove on Long Island, which is where I met my husband, Paul, as a very young girl — we've been together our whole lives. I grew up coming to the city on a regular basis as my dad worked here, and later had a studio apartment. I went to my first Broadway show when I was 12, and then delighted in a frozen hot chocolate at Serendipity —I still remember that experience perfectly. When my parents sold our house in Glen Cove, and made the permanent move to NY, they said they would save the studio apartment for me — well, in actuality they gave my then boyfriend that studio, as he was already working in the city while I was still in college and studying abroad. People always would tease Paul and say that the reason he married me was so that he could keep the apartment!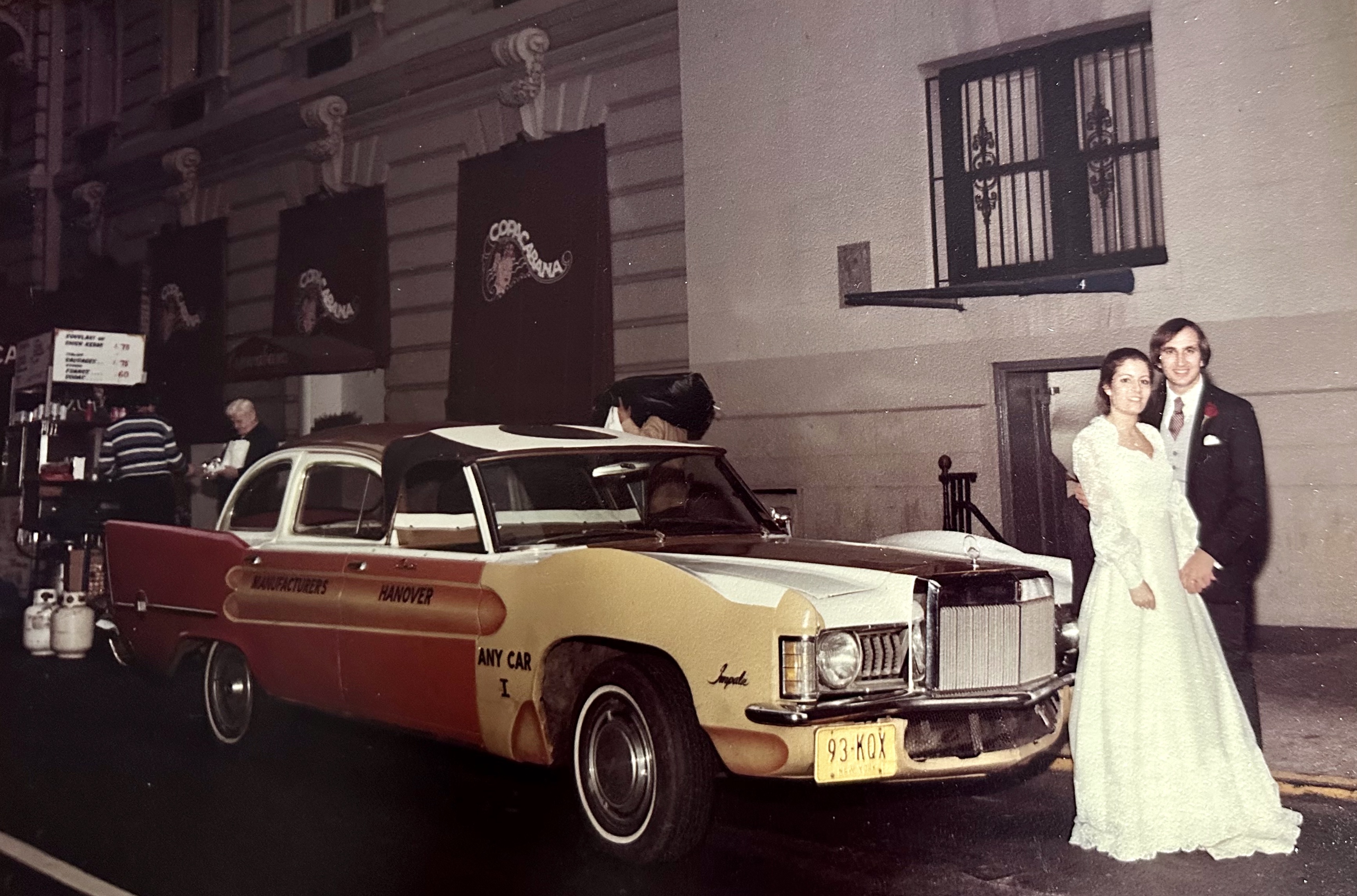 Betsy and Paul outside the Harmonie Club on their wedding day about to get inside the Manufacturers Hanover Trust AnyCar. Photo: Harold Heckler

What was your first job? What do you do now?
I worked for Playboy Magazine — to be clear, I was an editor and writer! It was a phenomenal experience — we were the people who had conducted the last interview with John Lennon before he was shot — it was about to come out the day he died, and I'll always remember people flooding into the office just wanting to be together and share their memories.

The travel editor at Playboy was Steve Birnbaum — he had his own radio show on CBS and he was a pretty big deal. He took me under his wing and he had me start writing articles for him at his magazine, Diversion. He sent me everywhere from the Caribbean to the streets of Manhattan. Interesting that I wrote an article in the 1980s titled, "One Flight Up." People rarely looked up to notice the eclectic array of businesses on the second floor of Madison Avenue. I climbed the stairs and went into every business, interviewing the owners and writing their stories. Who knew that some 40 years later, I would be recreating that same concept? I also wrote articles for Avenue Magazine and Guest Informant, which both still exist today.

When Paul and I moved to Westchester, I continued to do freelance writing, but when my daughter was born, I spoke to my mom — who was an award-winning children's author — and said, "I think I would like to own a children's bookstore." She was immediately on board. In 1986, we opened Once Upon a Time in New Rochelle, and ran it for 10 years. After we closed the store, I continued to work with children's authors and illustrators throughout the country, and abroad, to organize book signings and talks for them.

In 2009, when Paul and I decided to return to New York, I had to sell my book business. Once settled in NY, it only took me moments to realize that I had to find something meaningful to do with my time. That's when I started walking on the side streets and discovering fascinating small businesses.

An idea began formulating in my head. I wanted to walk every side street and meet the owners of these unique businesses and share their stories. When my kids were visiting one weekend and the four of us were sitting around the dinner table, I shyly mentioned my desire to shine a light on the side streets. It was Joelle and Evan who said that they wanted to design and develop a website for me. And Paul, true to his word at the time, accompanied me whenever he was able on walks and bike rides throughout the many years of my journey.

Soon after the conversation with my family, Paul and I were invited to the opening exhibition at the Museum of the City of New York — titled "The Original Manhattan Grid." When we walked in, we immediately saw a sideways map of this grid [1st Street to 155th Street], and we learned that the initial design was not meant to showcase the avenues as the main thoroughfares, but rather the side streets, as they ran from the Hudson River to the East River.

My husband and I looked at each other and we said, "OK, there it is — I'll start on 1st Street and I'll end on 155th Street." Never in my wildest dreams, did I ever think I would do it. But in six years I literally walked every single street multiple times, back and forth. I was out there when it was snowing and 17 degrees one day, and even when the temperature hit 100 on another. My husband called me the "Energizer bunny." I loved every moment walking and meeting such incredible people.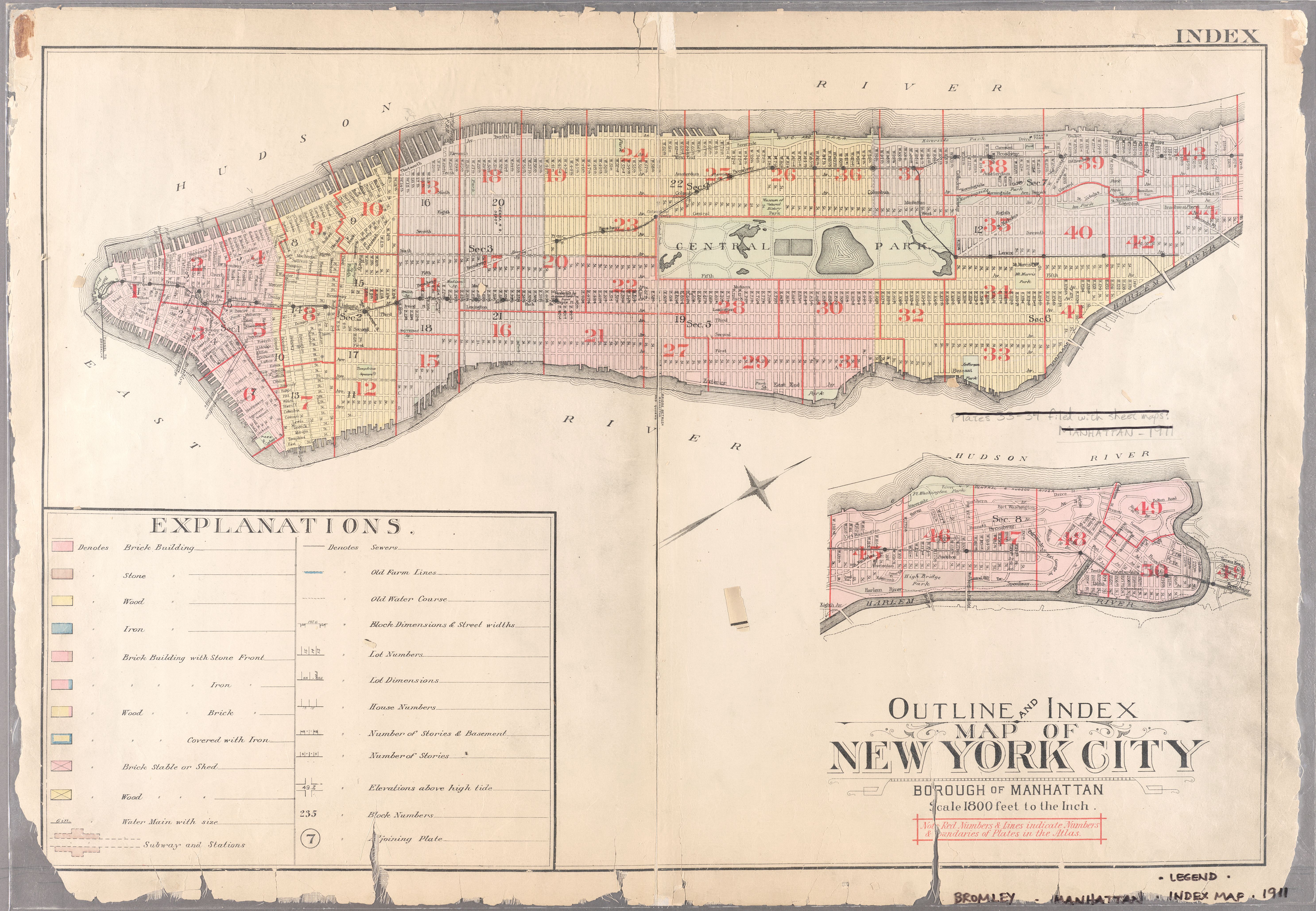 Borough of Manhattan Map Scale 1800 feet to the Inch. Photo: New York Public Library

What's your favorite New York minute (or moment) so far?
There are so many that I could share, but something quite funny and unusual was when I was walking in Chelsea and stopped in my tracks to see a woman leading a huge pig on a leash. When I asked if I could please take a photo, she seemed annoyed that I was disturbing her. Trust me, I was not the only one staring or asking questions. What I wanted to say to her is, ""if you're going to walk a pig on the streets of New York, you cannot be irritated by people who stop you!" I did get my photo.

Share with us why you love Manhattan
In addition to walking, I have biked every single side street.. I'm never bored, always entertained. There's something to see at any hour of the day, any place where I am — and there are countless lovely people to meet.

What's your superpower or hidden talent?
Finding the hidden gems. A line that I've heard so many times from people who have read my two books — Walking Manhattan Sideways and The Art of Walking Manhattan Sideways — or been on a walk with me or spent time on the website is, "I've walked by this place every day and it never occurred to me to go in," or "I have lived in the neighborhood for years, but never ventured down this particular street. And now I am finally appreciating what is right in front of me."

If you could bring one place back to Manhattan that is no longer around (we call them Lost Gems), what would it be?
The Silversmith — it was a jewelry store at 184 and ¾ W4th Street, and Ruth Kuzub was the owner — she passed away in 2021 at age 90. She had been in that location since the 1960s, and when I last met up with her, she was still biking to the store every day. The shop was considered to be one of the smallest, if not THE smallest, spaces in New York, yet she had seen everyone — even Bob Dylan used to shop there as a young musician. She would sit there all day, every single day, and people knew to come visit her and hang out — she had such great stories to tell and was truly an institution.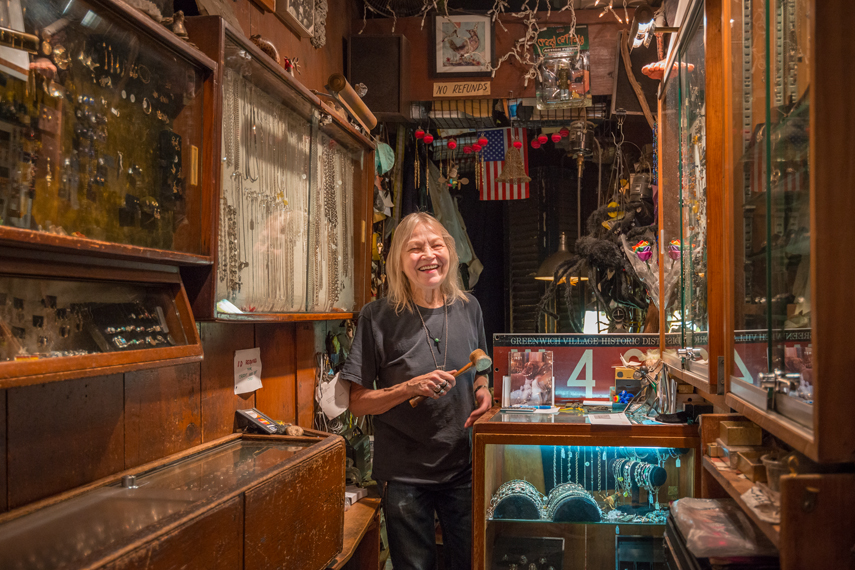 Ruth at The Silversmith during a visit from the Manhattan Sideways team. Photo: Tom Arena


Betsy's Manhattan Gems

Salon Riz — 78 W 82nd St, New York, NY 10024 (near Columbus Ave)
Years ago when I was walking, I met a woman who told me, "When you get to 82nd Street, you need to find Salon Riz." When I was on West 82nd, I climbed down a few steps and was delighted to discover this very special hidden gem. I met Mike, and I am pleased to say, many years later, I continue to have my hair done at the salon every few weeks. 

Noir et Blanc — 7 W 25th St, New York, NY 10010 (between 5/6th Ave)
There really aren't that many lovely women's boutiques on the side streets to choose from — but you don't need an abundance if one of them is owned by Deborah Konisgberger. In addition to becoming a dear friend, Deborah has magnificent taste — with all of her clothing purchased personally by her in both France and Italy. Always my go-to place for something special.

The Thrifty HoG — 11 W 25th St, New York, NY 10010 (between 5/6th Ave)
Deborah also runs the vintage shop nearby, which is dedicated to pieces that are "consignment quality at thrift prices." All net proceeds from sales at the shop fund Deborah's non profit, Hearts of Gold (HoG), which has been helping homeless mothers find employment and resources for themselves and their children outside of shelters since 1994.

Ryan's Daughter — 350 E 85th St, New York, NY 10028 (between 1st/2nd Ave)
It's a great neighborhood bar that has been open since 1979 — and before that it was a Prohibition-era club. Jim Gerding, the present owner, is a fantastic person and has been incredibly supportive of the Manhattan Sideways mission since our first meeting.

Stationery and Toy World — 125 W 72nd St, New York, NY 10023 (between Amsterdam & Columbus)
It's a stationery and toy shop where no matter what you're looking for — paper plates, pens, toys — it's there. Just wandering the aisles makes me happy, especially when I have my grandchildren with me.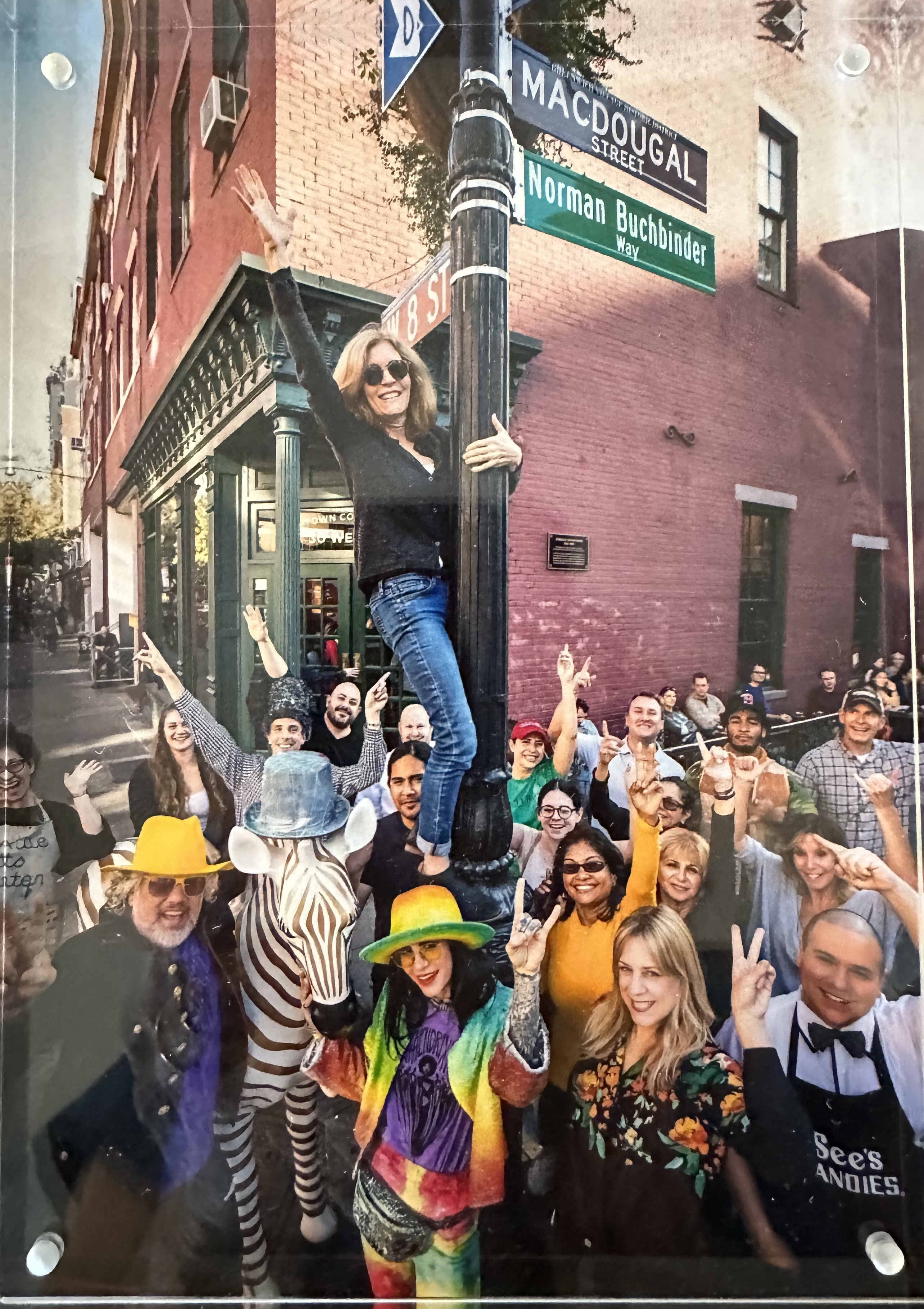 Betsy on the 8th Street and MacDougal sign pole surrounded by business owners when the Manhattan Sideways website won the 2017 "Best of Manhattan."

Rainbow Falafel & Shawarma — 26 E 17th St, New York, NY 10003 (between 5th Ave & Broadway)
It is as tiny a takeout place as one can imagine, but wow is the food outstanding! It has been operating at this same location for well over 30 years, run by an Albanian couple and their son. It is cash-only for some of the best Mediterranean food anywhere. 

Bonnie Slotnick Cookbooks — 28 E 2nd St, New York, NY 10003 (between 2nd Ave & Bowery)
I also love to cook and I love cookbooks — I've been collecting them for decades. And Bonnie Slotnick has a beautifully curated collection of antiquarian cookbooks that I enjoy perusing whenever in the East Village, 

Myzel's Chocolate — 140 W 55th St, New York, NY 10019 (between 6/7th Ave)
Myzel's is my favorite candy shop on the west side — (it is The Sweet Shop on the east side). Kamila is such a special human being. She has been on W55th Street for over three decades, having arrived here from Poland as a young girl in her twenties. Every day there are homemade chocolates that she prepares in one of NY's tiniest kitchens, as well as having over 130 types of European licorice. People seek her out from all corners of the US and abroad, not only for her candies, but also to engage in conversation with this very sweet woman. I adore her.

Grandma's Place — 84 W 120th St, New York, NY 10027 (near Malcolm X Boulevard)
Grandma's Place is a toy and bookshop and the owner, Dawn Harris-Martine, has been known as the "grandmother of the neighborhood" for many decades. She is now in her eighties, but she continues to be dedicated to literacy and to the children of Harlem, her neighborhood.

NY Cake & Baking Distributors — 118 W 22nd St, New York, NY 10011 (between 6/7th Ave)
Walking the aisles, one can find absolutely anything and everything one could ever imagine needing when baking. And the owner, Lisa Mansour, also teaches baking and cake decorating classes! 
---

If you know someone who would make a great My Manhattan story (or you would like to nominate yourself) please fill in this form....