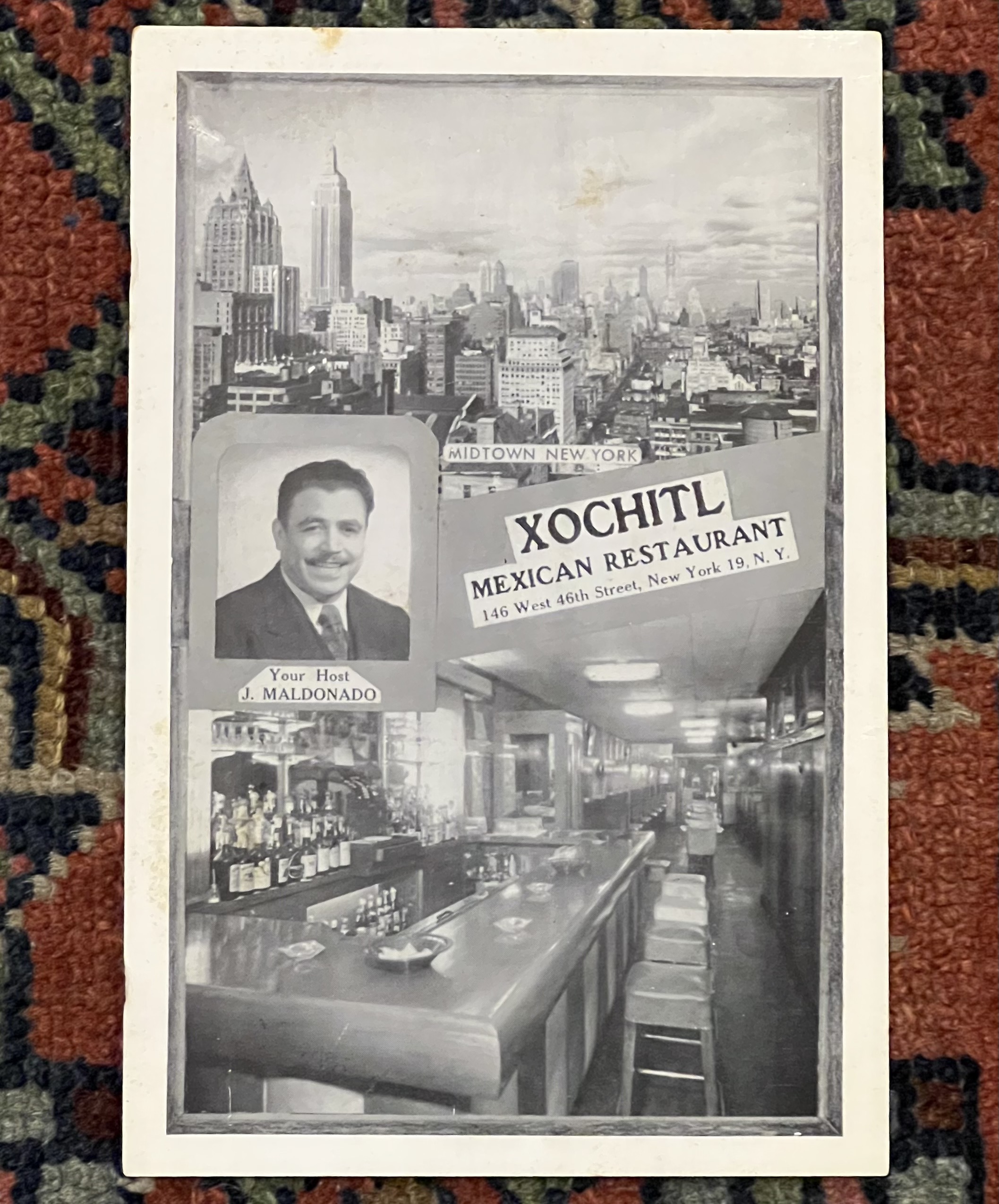 This image from the late 1950s shows Xochitl Mexican Restaurant on W46th Street in Midtown. Thanks to Matt Fox at Fine and Dandy for sharing this postcard from his vintage store.

According to a story on The Avocado, Xochitl Mexican Restaurant was a famous dining spot that operated in Manhattan from 1938 until its closure in the 1980s. Founded by Juvencio Maldonado, an electrician from Oaxaca, Mexico, Xochitl was one of the first Mexican restaurants in New York City.

Maldonado patented a hard-shell taco-making machine in 1950, which became very popular on Xochitl's menu. The restaurant's unique cuisine and prime Times Square location made it a New York City mainstay for many years. However, by the mid-1970s, Xochitl's star had waned somewhat, according to a review in the New York Times. The review expressed fondness for the restaurant's low prices and homey familiarity, but recommended La Azteca, located on 69th Street, for better quality and more ambitious food.

Sadly, Xochitl closed sometime after the passing of Maldonado in 1980 at the age of 82. The site of the restaurant is currently occupied by Cafe Abbondanza, a combination coffee-and-sandwich shop and Italian restaurant. Above the cafe, Maldonado's former tortilla factory has been converted into apartments.

"I grew up in New York in the 50s, and we went to Xochitl once a week. I remember the wainscoting on the wall by the booths was painted in a rainbow of colors and glazed with a patina of salsa and grease. Senior Maldonado often tended bar, and his chihuahua usually lounged at one end, defying numerous New York Health codes even in those days. The last time I visited was the day I got back from Vietnam. Thanks for the memories. Two cheese enchiladas and a soft bean taco — my usual," said Avocado reader Lionel Atwill

Xochitl may no longer be in operation, but its legacy lives on through the invention of the hard-shell taco and its place in the history of Mexican cuisine in New York City.