Where can you get freshly "picked" flowers that won't trigger your allergies? We headed to W36th Street in the Garment District, to a century-old factory and shop where fabric flowers are still custom-made by hand daily — "blooming" everywhere from movies and TV to high fashion design houses. 

Opened in 1916 by brothers Morris and Sam Schmalberg, the M&S Schmalberg fabric flower factory is the oldest and last of its kind in the US. It still employs many of the time-honored techniques for handmade flower making, and craftsmanship skills and the business itself have been passed down through the family over decades. Fourth-generation owner Adam Brand walked us through the legacy of the shop started by his great-great uncles. 



The M&S Schmalberg storefront in the 1940s. Photo supplied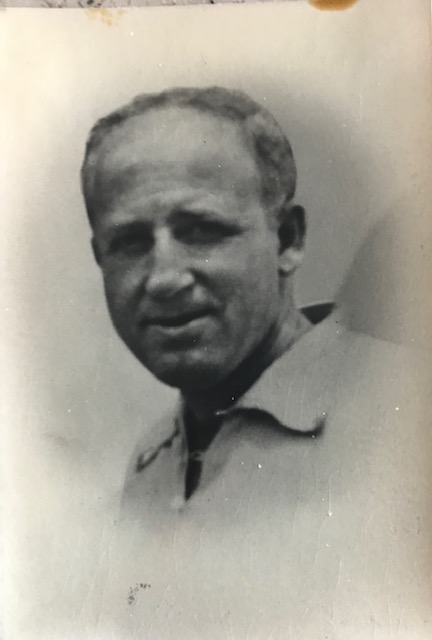 Sam Schmalberg. Photo supplied

"I grew up here — there are staff members who have been here as long as I've been alive!" said Adam as we chatted amid display cases of beautiful, brightly colored fabric flowers. "My grandparents, dad, mom, brother, sister and aunt have all been involved at some point — it's truly a family business. There are fun family stories — I don't know if they're true or just family lore at this point — that I used to sleep in a fabric box like a crib!" 

While Adam started his career at M&S Schmalberg at age five by making flowers for fun — "just for entertainment, not for production!" he insisted — he began working at the store in earnest between semesters of school. "We were really busy with Sex and the City at the time — Sarah Jessica Parker was wearing our huge flowers in her costumes," he recalled.

While he worked outside the business for a few years after college, Adam eventually returned to help his father, Warren, and grandfather Harold (nephew of founders Morris and Sam) at the factory. "About 14 years ago, I was kind of just at a place of wondering, 'What am I doing? Where am I going?'" said Adam. "One day I said to my dad, 'Can I come in and help out, and see what happens? You don't even have to pay me, just pay for my train ticket!'" he added, "and as a New Yorker, you know that's not cheap!"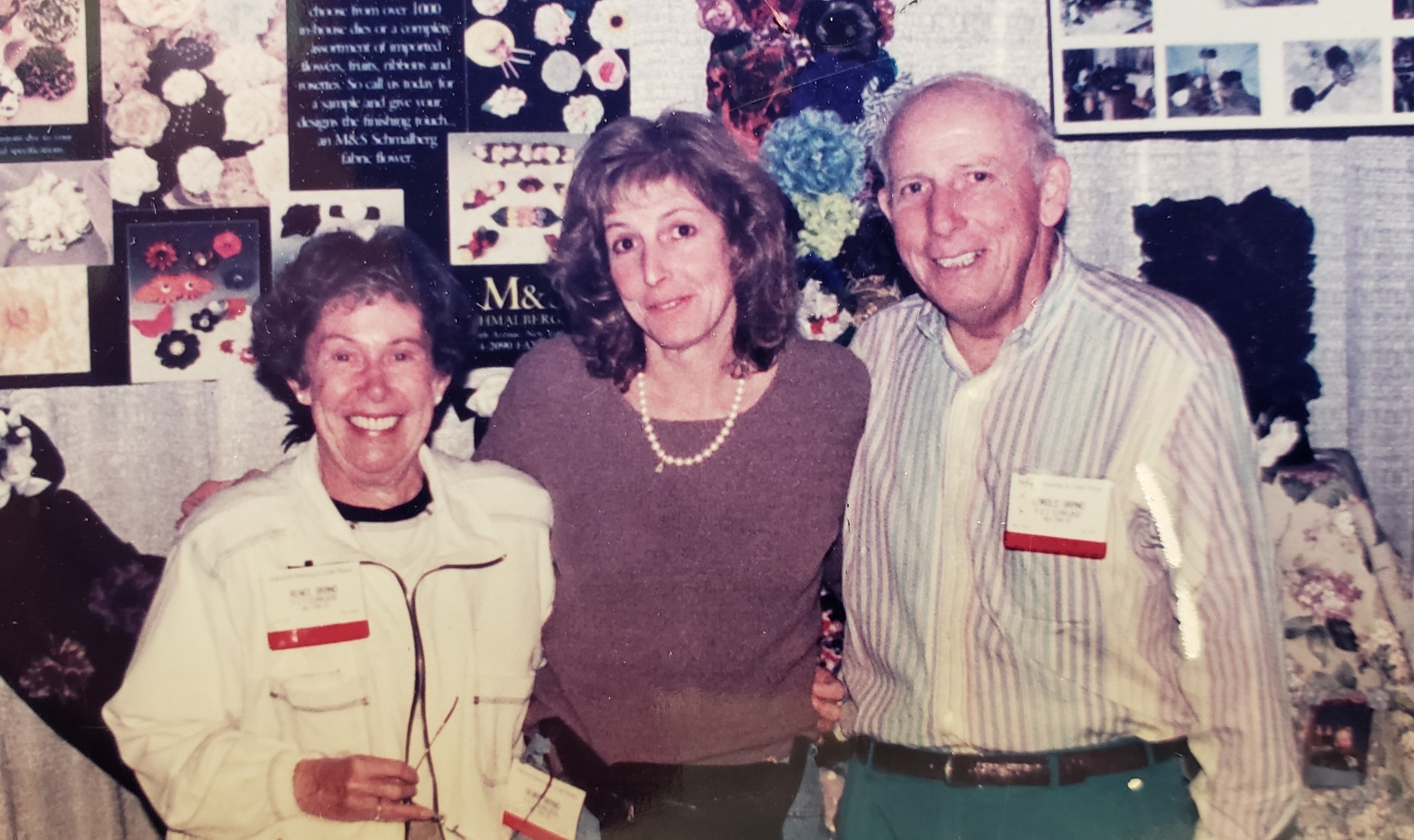 Adam's grandmother Renee, aunt Debra and grandfather Harold at the shop. Photo supplied

The gig grew, and as dad Warren moved closer to retirement, Adam took on more and more of the day-to-day responsibilities — including the creation of flowers. While M&S's veteran team of artisans complete the majority of crafting work, Adam walked us through the system he's come to know after decades of observation. "This basic process has existed for over 100 years," said Adam as he showed us the hundreds of vintage irons — some from the factory's first years in existence — that are still used to press fabric petals into unique designs. First, fabrics are brushed with a starching agent called sizing to eliminate wrinkles in the material. Next, fabrics are stretched and dried by hand before being cut into petals. Designs are arranged into the iron press — once gas, now the factory uses electric power to join petals together. Stems and extra accoutrements are applied by hand before the flowers make their way to a theater, fashion atelier or TV costume designer's hands. 

While the team at M&S is well-versed in all aspects of the custom construction, today there are far fewer skilled flower artisans in the Garment District. "In the old Garment District, you could go to the labor union and say, 'We need somebody for assembly, we need somebody for die cutting, we need somebody compressing' — there were so many other flower factories," said Adam. A recent profile of the shop by costume historian Bernadette Banner estimates that in the early 20th century, over 74 percent of flower and feather trade manufacturers were located in the Bronx and Manhattan — many of them in the Garment District. Now, like so many other specialty costume and fashion businesses once occupying the historic neighborhood, M&S Schmalberg is the last of its kind due to ever-increasing offshore manufacturing. Adam said he feels camaraderie with fellow Garment District holdouts, telling us: "I hold all of these manufacturers who produce here in such high regard — because the easy thing would be to ship it out. Continuing to manufacture here instead went from being maybe a questionable business decision to becoming part of our identity."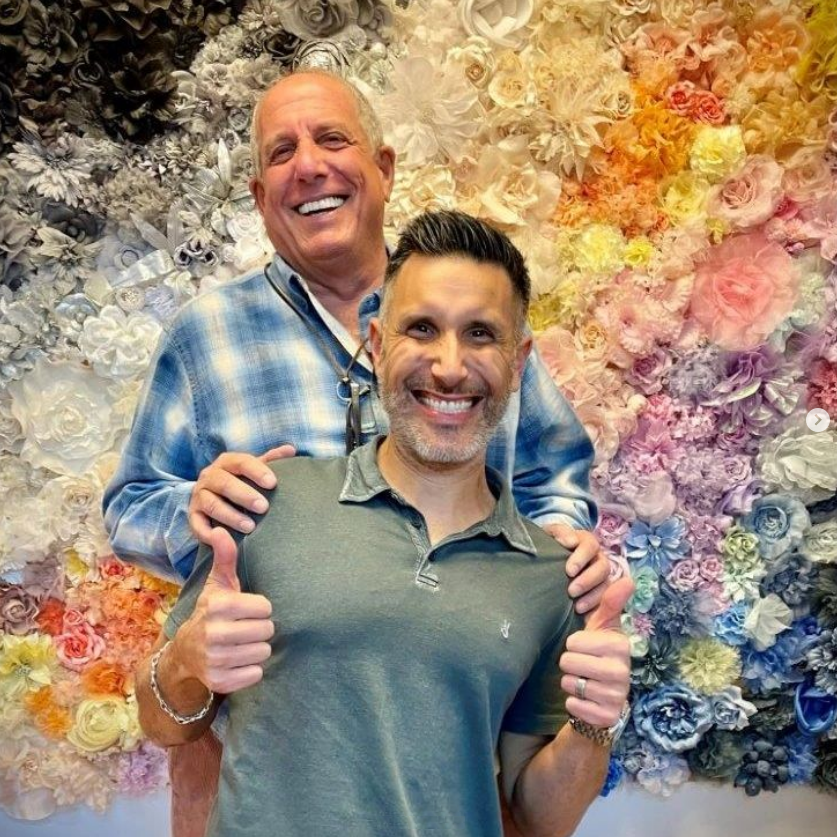 Warren Brand with Adam Brand. Photo supplied

That's not to say that Adam and his family haven't taken steps to bring M&S Schmalberg into the 21st century. In addition to updating the company's website and creating social media accounts, Adam credited his brother with having helped pioneer their presence on e-commerce retailers like Etsy. "Before I started working here, my brother created an Etsy page," he told us. "We'd get an email maybe once a month for a $12 flower sale. But I started to get obsessed with amping up our photography and presentation — it took me a while, but I took to it, and now our sales from Etsy and Amazon are as much as 20 percent of our business." 

It's a business that's marked not only by the ebbs and flows of the fashion industry, but also the entertainment industry. "I could tell you our biggest customer this year," said Adam, "but it's different from the one five years ago and 10 years ago," he explained. "In fashion, Vera Wang is one of our biggest clients. We work with Rodarte, Oscar de La Renta, Marchesa, Carolina Herrera. We do flowers for Bridgerton, The Gilded Age and Marvelous Mrs Maisel, the New York City Ballet, Radio City Rockettes and the San Francisco Opera," he added. "We had someone come in from the San Francisco Opera and buy five flowers — and that led to an order of over 4,000 flowers total!" They also showcased 17 designs on The Met Gala red carpet. "We had an amazing run with the Met Gala," said Adam, "My dad came back in that whole week and helped!"



Jenna Ortega, Paris Hilton and Harvey Guillén in M&S designs at the Met Gala. Photos: Instagram

Even during the slower periods, the team at M&S stays busy working with student groups from nearby FIT (the Fashion Institute of Technology) and Parsons School of Design to show young artists the legacy of the fabric flower industry. "What's in it for us, if you will, is that you now have 15 to 20 students from every tour that are going to go into fashion and now know about us," said Adam. "We help them on their final projects. If you're a fashion design student, it's a great way to really get into and utilize factories and build relationships." 

But whether you're a budding Calvin Klein or not, the M&S Schmalberg factory is open to you, said Adam. They welcome walk-in tours of the factory for those curious about their unique offering. "Anyone can come in," he said, as a couple rang the bell to buy flowers and take a look around. They also welcome those who would like to order custom flowers from a significant fabric like a wedding dress, he noted. "It's one of our specialties — we have a vintage wedding dress in the back right now that's getting made into a single rose." 

He hopes that by engaging with the public, more people will know about and turn to M&S for their distinctive artistry. "We try to be very welcoming, which is something my dad started," said Adam. "Anyone who wants to walk in the door is welcome to a tour, and if you want to buy a flower for $20 bucks? Great!" 

We recommend making the trip to M&S Schmalberg for a free tour of the city's singular fabric flower maker — and keep an eye out on billboards around town for M&S's next Hollywood showcase!